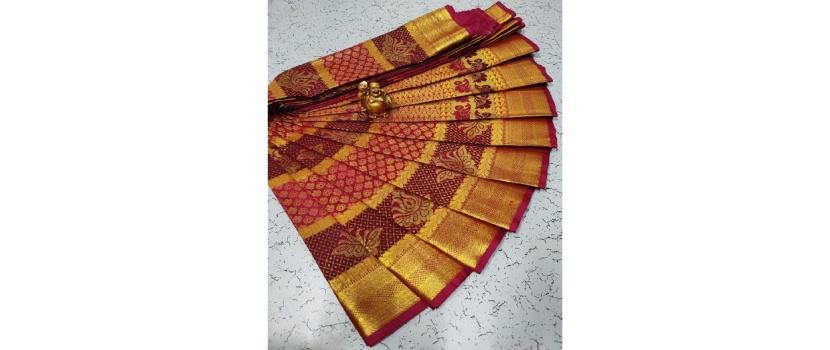 When you mention the term 'Silk' to an average Indian, they are ought to have a few names in mind. Some of them include the famous Banarasi Silk from Uttar Pradesh and Kanchipuram from Tamil Nadu. This soft, glossy, and luxurious fabric is a hit among a lot of people particularly Indians. Silk is a symbol of richness and high standards and in India, silk is among the most important fabric. Sarees in India already hold a very special place among the hearts of Indian women.


Soft Designer Silk Saree is among the most popular ethnic wear for Indian women. Irrespective of what the age is or which stage of life the person is, almost every woman wears this gorgeous attire at least once in their life. The Indian occasions are almost incomplete without a saree and Silk sarees are the best solution one can go for while they are planning to be a part of a special event.


From women, who are leading the forefront of their fields to the simplest of the women, almost everyone has a love for sarees in India. With the help of Wholesale Soft Designer Silk Saree Supplier, you can find the best quality of fabric at the most reasonable rates. But, before you dive into the market, you should be aware of a couple of things.


Is Silk Popular Among Women?
Saree holds such a valuable place among women owing to the culture of India. Once you understand this, you should already have an idea that silk sarees are among the most popular among all other types of saree. The most loved fabric among the women of India is Silk and a women's wardrobe is incomplete without a saree made out of silk. Silk sarees find a place in almost every Indian occasion and some cases, they are even treasured and passed on to generations.


Moreover, silk is even considered as auspicious and is used as an offering to the Goddesses as well as respected female relatives. This culture is evident and practiced all over India and silk marks as a social status among a lot of people.


What Makes Silk Such A Valued Fabric?
As the generations pass by, a lot of things change. But the importance and of silk seems to be the same over the years. A major reason that contributes to why silk is such an important fabric among Indian women is the versatility that is offered by silk. Silk is essentially a fabric made of proteins that are found in abundance and various varieties. But when sarees are taken into consideration, sarees are essentially a long flat fabric that is worn without any stitches.


The appearance of the saree cannot be altered with the help of stitching or cutting in a different fashion. Therefore, adding novelty to it is not easy and what matters is the quality of the fiber that is used to make it and the texture of the fibers. Soft Designer Silk Saree in themselves are the winners as silk is one of the yarns which is capable of bringing elegance and novelty to the cloth very beautifully. Silk can be used to make stunning sarees that have unique textures, luster and are very smooth.


What Makes Silk Sarees So Special?
Silk Sarees are a perfect blend of the Indian culture and the lives of the people residing here. The Southern parts of India stand among the largest producers of silk and they are the largest consumers as well. Soft Designer Silk Saree Manufacturers In Tamil Nadu are among the largest producers in India and they account for the finest productions in India overall. Indian Mulberry Silk is among the finest quality silks that can be found.


The silk sarees produced in the country are majorly linked to many Indian classical dances as well as creative acts. This also includes Bharatnatyam, Kuchipudi Dance forms, Carnatic Music and so many more.

Thus, it can be very firmly stated that Silk Sarees in India hold a very important value among all women. Irrespective of the occasion, Soft Designer Silk Saree will always play a very crucial role in making Indian Women look all the way more elegant, fashionable, and classy.